Interview: Matt Mays
Photo Credit: Devin McLean
On February 8th, our young journalists Jenn Klassen and Emily Stage had a chance to chat with Matt Mays, well-known across Canada and beyond for his distinctive voice and lyrics, thunderous live shows and string of rock radio hits. Early singles 'Cocaine Cowgirl' and 'On the Hood' gained the Halifax-raised performer plenty of fans, and the crowds have kept building as songs like 'Tall Trees', 'Terminal Romance' and 'Indio' have registered deeply with listeners.
In 2017, Mays released a terrific album called Once Upon a Hell of a Time, and decided to follow that up in 2018 with the aptly-named Twice Upon a Hell of a Time, which features acoustic versions of the same collection of songs. This offers fans an interesting experience: listen to the 'Saturday night' versions of the songs first, and then try the 'Sunday morning' versions, too. It is cool to hear how Mays shifts points of emphasis on the two albums, giving listeners the chance to discover added dimensions; for long-time fans especially, the depth just kind of accrues.
We caught up with Matt Mays before his recent show at the Dominion Telegraph Event Centre in Paris, Ontario (really lovely venue, and a beautiful town – definitely worth a visit). Currently, the thirty-nine-year-old artist is travelling the highways on his 'Dark Promises' tour, playing acoustic arrangements of his songs in small, intimate venues. The tour is named after his song of the same name, in which the lyrics feel a bit like a meditation on heartbreak and loneliness, and maybe the need to shake free from isolation. 'Lonely is just a word / and it don't mean shit to me', Mays sings on the track. 'Cause I'm a hummingbird in hawk wings / designed to be free.' We asked what made that particular song title the right name for the tour. "I kind of anticipated this tour as being sort of dark and stormy, like winter tours are often in Canada," he told us. "I just thought it kind of fit, you know? I wanted to bring attention to the song a little more.
Along with 'Dark Promises', the songs 'Trust Life', 'NYC Girls' and 'Never Say Never' really stand out on the recent albums. We like 'Perfectly Wasted' and 'Faint of Heart', too … and as always at young & free press, we get to look at everything from the perspectives of two generations! Jenn and Emily (both born in 2002) are just getting to know Matt Mays and his music, whereas Andrew Gunn, our owner and editor, has written about music in Canada for over a decade, and actually interviewed Mays years ago around the time of his Coyote album. So, we listened to the new songs together and came up with some questions! Our conversation with Matt ranged from the album cover artwork, which is by west coast artist Ola Volo, to the influence of Bruce Springsteen ("I was a late bloomer with Springsteen," Mays said. "I didn't really get it until I was probably in my twenties; then, when I did, I really did.") Find highlights of the conversation below … the transcript has been edited and condensed for the benefit of readers.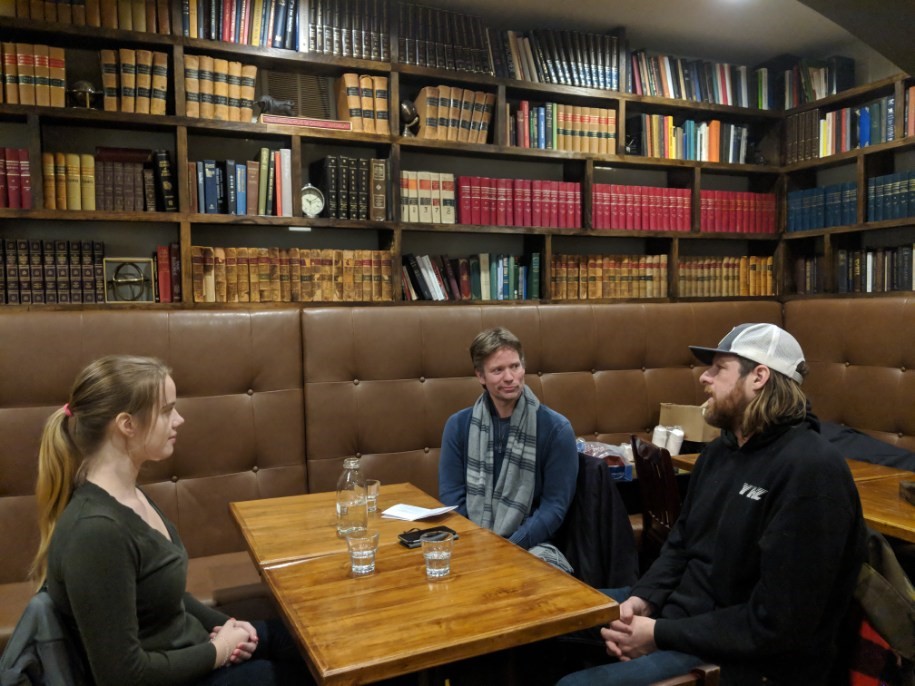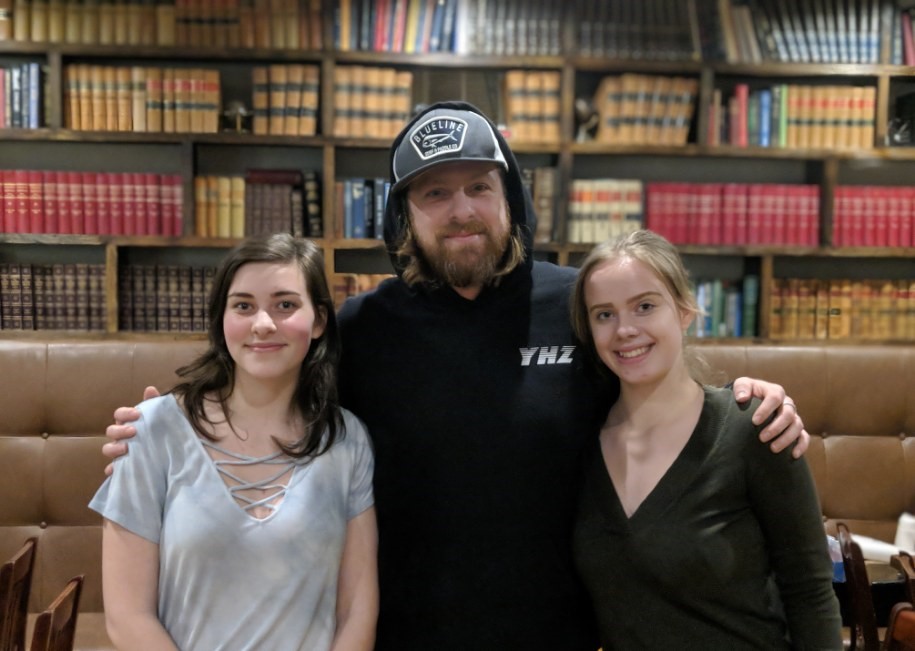 Jenn Klassen, Emily Stage & Andrew Gunn of young & free press met Matt Mays recently for a quick interview at the Arlington Hotel in Paris, Ontario. Mays was in town to play two nights at the Dominion Telegraph Event Centre, part of the ongoing DT Concert Series.
Andrew: We were looking earlier at the cover images from the albums, and I looked up a little on the artist. We were just wondering if you could describe what resonated for you about the images, and why you chose them for the album covers.
Matt: Well, the artist's name is Ola Volo, and I saw her artwork at a bar in Vancouver. I was deejaying that night and I walked in and the whole place was just covered in her mural, pretty much. I was really blown away. As soon as I saw it, I had to find out who the artist was. Then I started following her on Instagram, social media and stuff. All her artwork was just incredibly intriguing. I kind of thought her name was cool, too. I was in the studio as well, so I was sort of writing a lot at the time. I thought, why not a song that hasn't been written yet, one about being painted into somebody's painting? I thought that was a good theme.
So, the song happened, and then she heard the song and really liked it. Her and I became friends, and then I kind of asked her to do the album cover. I was like, 'hey, would you mind doing the cover?' She was super into it, and that was kind of that. That was it. I wanted to keep it the same cover, because it's the same songs on each record, so I wanted it to look the same but also be distinguishable between the two. It's nice getting the songs being the same but different, and also the cover being the same but different. It's just kind of fun these days that you can do that sort of thing, and release it right away on Spotify. But you look her up now, and she's blown up even since this record's been out. It's crazy. She's doing massive buildings in LA, and at a Starbucks in New York City – it's crazy. I'm really happy for her. …
Andrew: Jenn had a question. We were listening on the way down to 'Trust Life' …
Jenn: Yeah, we wanted to know how much you remember of how the song came to you and how you started it, and how you feel about it now.
Matt: I was living in California at the time. The whole 'alien hand' thing kind of sounds funny – every time I sing it, I picture an alien hand, but I was actually an illegal alien. I was living in the States illegally. Yeah, it all came together pretty quick. I was just walking around Laguna Beach and the whole 'trust life' thing kind of came to me, just sort of a reflection on what's really important. It was a really mellow version that came first, and then we kind of rocked it up a bit.
That one I remember coming together pretty quick, and like a lot of songs, you hear new things in them. The lyrics make more sense sometimes as the song gets older. Sometimes ten, twenty years after you write a song, it means something totally different. That's what's exciting about songs like that. Some of the lyrics at the time, I'm like, 'I don't' even know what that means, I'm just going to write it because it sounds cool.' Then, maybe five, ten years later, it will apply to your life at that time. That song is kind of like that for me. …
Andrew: So, Adam Baldwin, who is opening tonight and playing with you –
Matt: On the whole tour, yeah …
Andrew: As we put an article together about this tour, for people who are still getting introduced to his stuff, kind of the relationship between the two of you and how that's developed over the years – how would you introduce people to his work?
Matt: I met Adam when he was about eighteen years old. Anyone who ever gets to talk to or meet Adam realizes right away that he's a very old soul. He was always like that. He's just an incredible musician. I knew he was a good singer, but he played keyboards in a band called Glory Hound and the Skyhawks and I didn't really get to hear him sing. I don't know if we were at a party or what – I don't remember – but I heard him sing for the first time and I was like, 'holy moly, what a voice!' He's got an exceptional voice. Then, we just started making music together. We just hit it off as friends big-time. He's so great, you know, he's awesome. I was just enamoured with him, just as a friend, we were so excited to be close. Then, I needed a keyboard player for my band, and he started as a keyboard player. He turned over to the guitar and singing all the lead harmonies, and just turned into a real fixture. The whole time he was writing songs as well. He became such an integral part of the band, as well as a singer-songwriter and putting out records. Now, on the east coast, he's a household name, he's really starting to grow. It's been really cool to get to see that, to be on the sidelines and be around. We give each other advice. It's nice to have a confidante in this business, and he's definitely mine, for sure.
Andrew: One song that I wanted to ask about … the album closes with 'Never Say Never', and again I kind of felt that idea of how things can come back around again with enough time. What made that the right song to close the album?
Matt: Yeah, it kind of worked both ways, the rocking sort of version and the mellow version, just something about the sentiment of the song. That one just kind of came really quick. Hey, you know, it's a break-up song! I think it's sort of about just realizing what's happening and dealing with it, and believe it or not, there's kind of some hope in that sentiment, I think, you know? It's dark, but it's realizing what life actually is and not taking it for granted, and striking while it's hot and making sure you appreciate every moment because it's fleeting. Instead of more the faith sort of thing and putting it up for grabs, it's sort of like, 'this is happening right now.' You have to move on and get over it because life's beautiful and who knows how long it's going to last, right?
Andrew: Last question … I think the last time I saw you play, you opened for Arkells at Budweiser Gardens in London, so just the contrast between doing the big, electric, plugged-in shows and then doing these acoustic shows – what's different for you as the performer?
Matt: I think it helps keep you sane to change things up, whether it's your musical style or touring. I started out with doing open mics in Halifax. That was my comfort zone, right? Playing new songs for people who wouldn't listen, or weren't listening, you know? Writing songs for a girl who I had a crush on who was talking to some other guy at the bar while I played them – believe it or not, that was my comfort zone! So, I love playing with the band, I love playing loud, but it's nice to actually get back down to the songs. We're playing older stuff, too, in much different versions, which has been fun, challenging. I think it's important to keep things new and to challenge yourself, and to know that we can do it, that we can tour the electric thing and if our ears start buzzing out too hard, which happens, it's nice to know that we can go and play these little rooms and really get the songs into people instead of blowing them right over people with volume sometimes. It's nice to have more of a kitchen-party atmosphere, because we're East Coasters and that's what we do best. We've got to keep that sort of set up in the live show.
Andrew: When I listened to the acoustic set of songs – I don't know, those resonated more with me this time around. I love going to the big loud shows, but just listening, I don't know, there was something in the acoustic songs …
Jenn: It's more personal …
Andrew: Yeah, and Emily said, as we were driving down tonight, that it's almost kind of spiritual, or more meditative.
Matt: That's why I did it. It was a lot of really personal stuff that I was going through, and tough times, and I tried to get it off my chest at the time with the rock record, but I wasn't satisfied. It didn't feel like I got it out, so that's why I did Twice Upon a Hell of a Time and I totally got it out, and for that reason – it was much more spiritual and meditative. It was a real process, and it was hard to do. It was emotional, but now I feel really good about having those out. Once you maybe hear the second one, you can go back to the first one and it has more of an impact because you kind of know the words a bit more and maybe the sentiment a little more, which is a neat kind of dance between the two of them. It's cool that you hear that. That makes me happy …
Upcoming Tour Dates for Matt Mays …
Feb. 14, Algonquin Theatre, Huntsville ON
Feb. 15, Market Hall, Peterborough ON
Feb. 16 & 17, Neat Café, Burnstown ON
Feb. 21, Have Mercy, Edmonton AB
Feb. 22 & 23, Block Heater, Calgary AB